Venom & The Equalizer 2: the perfect guy gifts
This shop has been compensated by Collective Bias, Inc. and its advertiser. All opinions are mine alone. #ManCaveMovieNight #CollectiveBias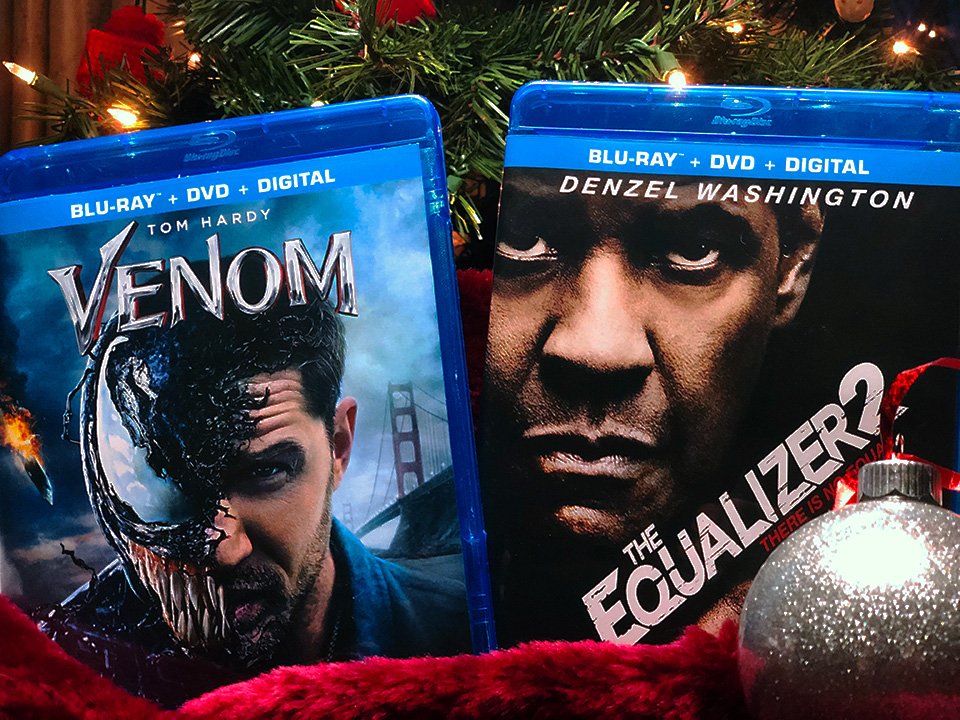 Hover over the image above to buy Venom at Walmart!
Venom – The World Has Enough Superheroes
I've been a comic book fan for over 30 years. One of my favorite characters is Marvel's Venom. Considering how much I love the Venom character, I was super excited when I heard there was going to be an action-packed Venom movie. I was even more excited when I learned that Tom Hardy was starring as reporter Eddie Brock, whom the Venom Symbiote bonds with, turning Eddie into the awesome, shapeshifting anti-hero. He's flawed, funny, and relatable. Honestly, Hardy's portrayal of the character exceeded all my expectations and made me a very happy comic fan indeed.
Great for guy time
Every holiday season, I batten down the hatches and steel myself for the incoming craziness. I love Christmas, but let's be real; it can get pretty nuts. That's why I'm thrilled that Venom is coming to Blu-ray on December 18th with over an hour of extended content and special features.
I can't wait to drop by my local Walmart and pick up a copy of the Venom Retro Action Figure movie gift set. Then I'm going to pop a boatload of popcorn, fire up the Blu-ray, and share my love of Venom with my teenage sons. That's probably the best part of being a geeky dad: passing on my fandom to my kids.
The Equalizer 2 – Denzel is back!
Another Blu-ray I'm looking forward to picking up at Walmart is The Equalizer 2. I enjoyed the first Equalizer and can't wait to check out Denzel Washington's return as the badass Robert McCall. It marks the first time he has ever done a sequel.
The Walmart Exclusive Equalizer 1 and Equalizer 2 movie collection on Blu-ray is available now, and comes loaded with over an hour of bonus features, including deleted and extended scenes, and a pop up trivia track.
Perhaps the coolest extra feature is the new "Retribution Mode" which allows fans to watch the film with Denzel Washington and Antoine Fuqua as they take us through the making of their favorite scenes with exclusive in-depth conversations.
Perfect guy gifts
Since Venom and The Equalizer 2 make such perfect gifts and stocking stuffers, I plan to pick up extra copies at Walmart to give to my guy friends this holiday season. They'll make great, must-have additions to my friends' collections of superhero and action movies.
But let's be honest: I'm most looking forward to adding Venom and The Equalizer 2 to my own collection. I love my friends, but my geekdom comes first.
Available at Walmart
If you're looking to make the comic, action, and Denzel fans in your life happy this holiday season, you can pick up the Venom Retro Action Figure movie gift set on December 18th, and the Exclusive Equalizer 1 and Equalizer 2 movie collection, available now, at your local Walmart. That will make you a true holiday hero!
Tim Wells
Dad, husband, gamer, blogger, geek. Not necessarily in that order.