Hemorrhoid relief on the go with this DIY travel kit
This shop has been compensated by Collective Bias, Inc. and its advertiser. All opinions are mine alone. #FindReliefWithPrepH​ #CollectiveBias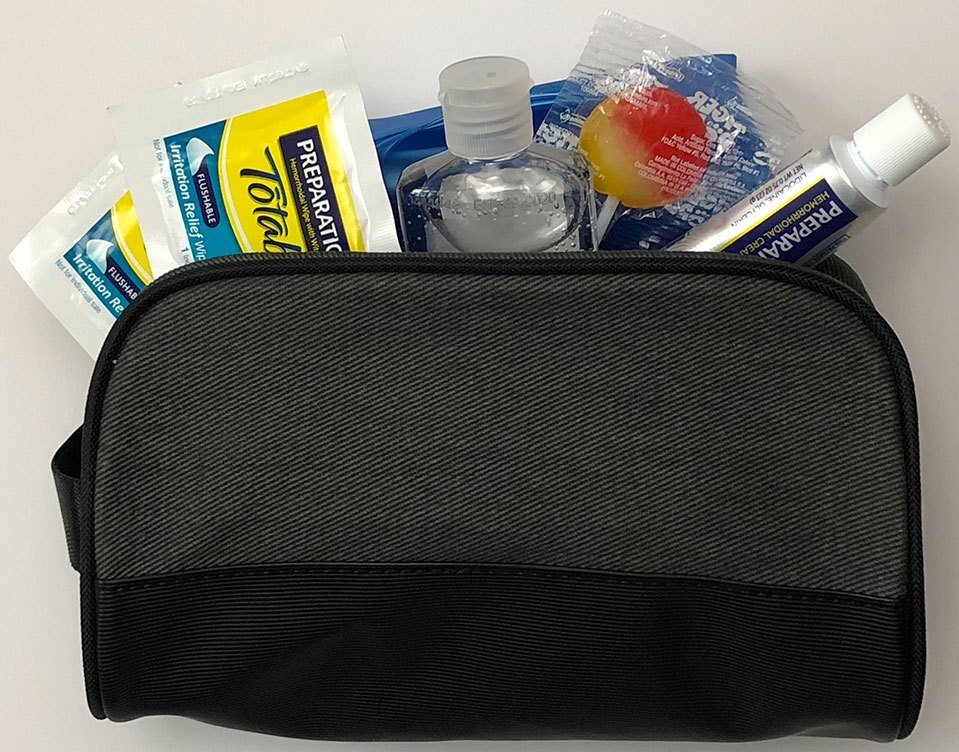 Click through and check out the products yourself with this handy shoppable image!
Guys, are you ready to talk about something super sexy? That's right, today we're delving into the oh-so-hot topic of hemorrhoid relief. It's an important topic that many guys are too embarrassed to talk about. When I was younger, I had a coworker whose pet name for me was "my little hemorrhoid." It wasn't until I experienced the misery of hemorrhoids firsthand that I realized she meant I was a pain in the butt.
Practicing PPP
As a gamer and a writer, I spend a lot of time sitting. That's why it's vital that I practice PPP: Peak Posterior Performance. Achieving this state of bum health requires a heightened level of butt zen. It requires discipline, harmony, and the absence of hemorrhoids. Because the best feeling from hemorrhoids is no feeling at all.
Words to live by
I want you to pay close attention to these words: Don't be dumb, take care of your bum. Memorize this. Meditate upon it. Make it your mantra. People often ignore their symptoms, believing they aren't actually suffering from hemorrhoids. They think the burning, irritation, and itching will just go away on its own. Not treating the real problem only prolongs the problem. Fortunately, relief is available!
Prep H to the rescue
PREPARATION H® Rapid Relief Cream has the relief you trust from PREPARATION H® now with lidocaine to numb painful hemorrhoid symptoms. Only PREPARATION H® Rapid Relief Cream has a powerful combination of maximum strength lidocaine, plus glycerin that provides a soothing protective layer, to offer relief of hemorrhoid symptoms. PREPARATION H® Rapid Relief Cream​ with Lidocaine has the highest strength lidocaine available without a prescription (5%) to relieve pain, itching, and burning.
On-the-go relief
Get relief-to-go with PREPARATION H® Totables®. They come in a discreet, convenient travel size—so you can easily treat and relieve your hemorrhoid symptoms away from home. PREPARATION H® Totables®​ offer portable and discreet relief on the go, to cool, soothe, and comfort.
DIY hemorrhoid relief travel kit
Since hemorrhoids don't care about your busy schedule, I put together a convenient hemorrhoid relief travel kit that can go wherever you do. Here's what you need:
PREPARATION H® Rapid Relief

​

with Lidocaine Cream – The 0.75 ounce tube is small enough to travel with and provides big numbing relief.
PREPARATION H® Totables®

​

– They're designed with travel in mind. And they're flushable and septic safe!
Inflatable seat cushion – Provides an extra layer of comfort when traveling, and conveniently deflates and folds away when not in use.
Travel-sized hand sanitizer – I don't have to explain why this is a good idea, right?
Lollipop – Why a lollipop? Because you're going through a lot and you deserve it, that's why.
Available at Walmart
You can get PREPARATION H®​​ Rapid Relief with Lidocaine Hemorrhoidal Cream​, PREPARATION H® Totables®, and everything else you need for the hemorrhoid relief travel kit at Walmart. You'll find Prep H in the Probiotics & Fiber aisle. And there's no need to feel any embarrassment. Everybody else in that aisle is dealing with their own issues. I want you to walk into Walmart and march to the Probiotics & Fiber aisle with your head held high. While you're there, make eye contact with another practitioner of Peak Posterior Performance, and give them a knowing nod of solidarity. And yes, there is a secret handshake, but you're not ready for that yet, grasshopper.
To qualify for Visa ® Rewards Virtual Account* from Fandango, purchase at least 2 participating Prep H or Wipe products in one transaction at participating Walmart stores between 09/11/2019 and 11/11/2019. Be sure to retain your receipt.
For full offer terms visit www.activaterewards.com/PrepH
*Online purchase excluded. No manual reproductions will be accepted. One reward per receipt submission. Must be a resident of the U.S. Reward link is void if not activated by 11/30/2019 and Virtual Account is void if not used within 2 months from the date of online reward link activation. Virtual Account can be used online wherever Visa debit is accepted for purchase(s) up to $5. Use is governed by terms in Accountholder Agreement at http://www.activaterewards.com/virtualvisa/terms_and_conditions. If lost or stolen cannot be replaced. No cash value, except as required by law. Not valid with any other offer. Not for resale; void if sold or exchanged. Offer valid only in the U.S. Limit 2 rewards per household. Virtual Account issued by MetaBank®, Member FDIC, pursuant to a license from Visa U.S.A. Inc. This optional offer is not a MetaBank, nor Visa, product or service nor does MetaBank, nor Visa, endorse this offer. Fandango Loyalty Solutions, LLC is not a sponsor or co-sponsor of this program. See http://www.activaterewards.com/PrepH/Details for full details.
Disclaimer: For children under 12 years of age, consult a doctor. Please read the package for product warnings and complete labeling information
Tim Wells
Dad, husband, gamer, blogger, geek. Not necessarily in that order.